Is there anything more classically feminine than wearing red lipstick?
I think not. There are even articles written about why you should date women who wear red lipstick. [This may be why my dating calendar is wide open].
I do not own said product considering I look more like Bozo the Clown than Marilyn Monroe when I wear red lipstick. However, I am not completely immune to its purposes… sexiness, feminine-ness, boldness… the list goes on.
I was taking care of a patient recently who– while admitted for pneumonia–also had stage 4 breast cancer that had metastasized to the spinal cord. The patient in question had had a previous bilateral mastectomy some few years ago so while that was not a current issue, it was a contributing factor to her condition and mental state… which is to say was not good. And I know I can't fix everybody. Hell, I don't think I can fix anybody, but I try–even if in most cases it's to motivate you to move your ass (a nurturing, placating nurse I am not).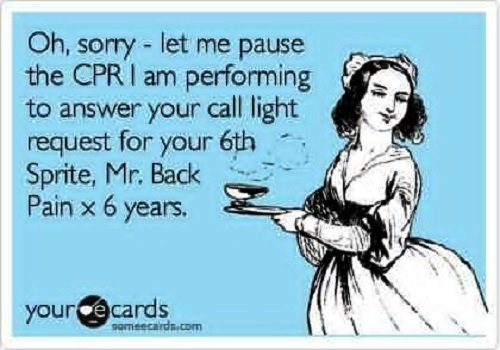 I do have a point, I promise.
Whenever I'm feeling out of sorts, I head to my local bookstore, and just start randomly reading any book that catches my eye. With that patient fresh in my mind, I recently read an excerpt from a book called something like "Why I wore lipstick to my mastectomy surgery." If that one chapter was so incredibly profound, I can only imagine what the the rest of the book is like. I probably should have bought it, but truthfully, I was looking for something a little more 'uplifting' to take on my upcoming vacation.
I get it.
A woman was about to lose a part of herself that biologically makes here a 'woman'… that society says 'this is what a woman looks like.' So she wears red lipstick to her surgery… Red lipstick–another of society's ways of defining what is sexy… what is womanly. How she used that color to make herself more than another cancer patient having surgery. How she used it to leave her mark– more than just an exacted pound of flesh– on the operating table. And there is something empowering about red lipstick, isn't there? A bold, fearless statement.
I am not a lipstick person. Or if truth be told, not really a make-up person. And though at times, usually when I'm having an 'off' few days, an image adjustment has been cathartic for my Self… if only in receiving comments from people 'you look nice today' or getting looks from attractive men that usually don't noticed my dressed down self; recently it has been more than my Self that needed a lift… my spirit is probably more accurate.
Usually, I lift my sagging spirit by traveling or doing something different. Or being creative. But right now I am in a box. School is limiting my free time and free funds. My living space is tiny and doesn't afford the opportunity to be overly creative. I am still learning how to be good a my job. I am still learning how to adjust to the demands of my new life. Sometimes I don't think I'm doing any of it well. Sometimes I feel like I am constantly being watched. Like a person in a box. Forced to walk a straight line… a path that holds no mystery. No character. No soul.
And then I look back. On what I have accomplished. On where I've been. OR where I've come from. On the goals I still have for my life. And then I say "Oh, yea there she is… that merry wanderluster… that nature girl… that person who has saved lives… that person who loves animals… that person who creates things. There she is…
"And then I say–This is who I am." And I felt the smug satisfaction of, "so there."
So… there.
Red Lipstick by Rhianna serves as musical accompaniment